ABOUT THE OSMANIA UNIVERSITY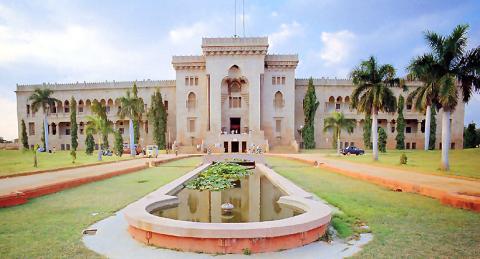 Osmania University  (1918) is one of the premier institutions of higher learning in India epitomizing the National agenda for higher education. " A pioneering and performing university re-accredited by   the National Accreditation and Assessment Council (NAAC) of the University Grants Commission (UGC), Government of India  with  the highest rating of  Grade  'A" in the service of the Nation, making higher education accessible, affordable and meaningful to lakhs of students from the backward region". This aptly sums  up the spirit and essence of Osmania University – the symbol of life long learning.

 Some famous alumni of this prestigious institution include former Prime Minister (late) Shri. PV Narasimha Rao, Shri. Y. Venugopal Reddy  former Governor, RBI, Barrister and  Member of Parliament  Asaduddin Owaisi, and Sri S. Jayapal Reddy and among others.
The Research pursuits at the university are wide ranging, inter-disciplinary and of a higher order. University envisages for itself a proactive role in re-engineering  the higher education system for the establishment of knowledge-based society.